Before 2020, Portland Webworks had less than five remote employees, today we have more than 25. It's a sign of the times, and brings a synergy of opportunity, both for us and for our employees. We get the benefits of a diverse and experienced staff, and our staff gets to work from the comfort of their homes and states.
Now that our remote team is the same size as our full-time team, we wonder how we did it without them. Since our beginnings (see company timeline) we've supported remote clients in other states, and now, between clients and staff, we work in 30 states across the U.S. We look forward to growing our remote team and representing more states, so please see our career page for Portland Webworks job openings.
To follow our posts on Veteran Employees, Independent Contractors, and New Employees, we asked our remote staff what they enjoy about working with us from the comfort of their homes across the country. Here's what they had to say…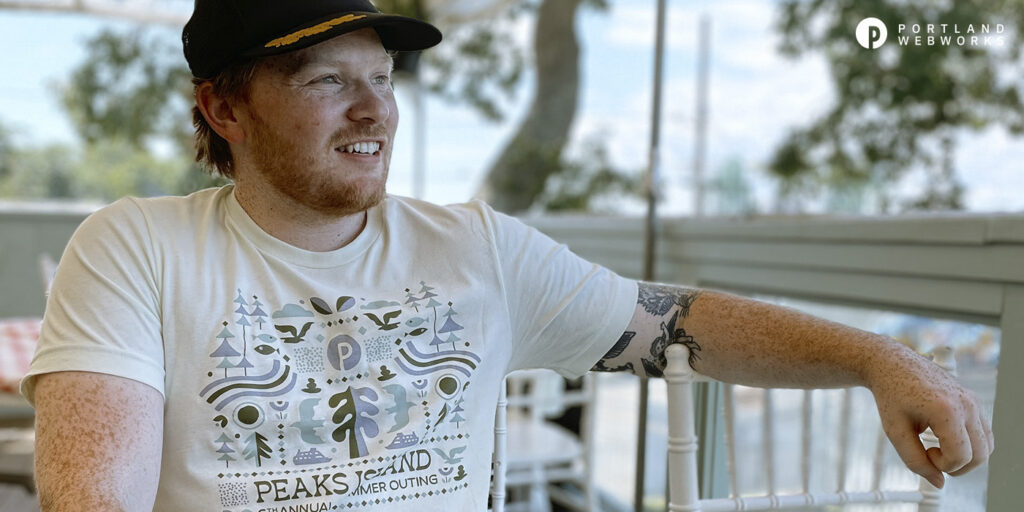 Hunter Mcpeak: Graphic Designer, Belfast, Maine
What stands out for you about working remotely at PWW/GWW?
"With so much of life being unpredictable, one thing I can constantly bank on is remote work. At PWW, I have the ability to manage client work and employee expectations from home. Designing is best done when in a familiar environment, and I have never felt forced to work from anywhere that doesn't feel comfortable."
Do you have a favorite daily habit for working at home?
"My favorite morning habit is getting my child ready for the day. This is something that is important to me and is available only because I save time by not commuting to work. I thank PWW and remote work for being able to sit down and have breakfast with my son."
What attracted you to the job?
"When looking into a career change, one thing that stood out to me at PWW was the trust and openness everyone expressed in my initial interviews. Job searches are tough and finding a match for your particular skill set isn't easy. Before I started I had a very real understanding of what I needed to do and how I could do that at PWW."
What do you enjoy most about your current client work at PWW?
"When most people think of government sites, they don't think of the warmest experience or visual aesthetic. My job is to help change people's perception of government sites and make them more fun, usable, and interesting. PWW trusts that I can walk the fine line of getting messages across as well as making the message clearer. I've really enjoyed applying my previous design knowledge to move client work forward."
Current projects:
California Department of Health Care Services, Advocates for Human Potential (AHP)
Colorado Avalanche Information Center
Colorado Judicial Department
Finance Authority of Maine
Maine Department of Education, MOOSE (Maine Online Opportunities for Sustained Education)
Mark Lilly: Software Developer, Portland, Oregon
Mark Lilly

"Being a remote independent contractor with PWW has been both fluid and inclusive. The company does an excellent job of making me feel a part of the team, despite being both a contractor and three time-zones away. Over the holiday season, I got a box in the mail with a lovely jacket as a Christmas gift, and I was touched. I've worked for other companies as a contractor, and the "wall" between employee and non-employee always seemed higher.

With PWW, there's a big focus on quality outcomes for clients, and as such, I feel that my expertise is both respected and utilized. When part of a project team, the goal is making sure the customer's needs are met, and everyone on the team has an equal part in that. This means stepping up at times (the rare late evening deploy), but at the same time, feeling welcome to the core of the company. PWW has always been transparent, open, and forthcoming, and I've very much enjoyed my time there over the last three years."
Current projects:
Idaho Department of Health and Welfare, department site (case study)
Idaho Department of Health and Welfare, Child Care Incident Tracker (case study)
Vermont Judiciary, Drupal upgrade (case study)
Jason Safro: Software Developer, Washington, D.C.
Jason Safro in Egypt

"At PWW, I get to work with talented professionals on interesting projects that I'm proud to have in my portfolio."
Current projects:
California Behavioral Health, Infrastructure and

Workforce Development

Minnesota Office of Higher Education (OHE), MyHigherEd (case study)
Maine Department of Education, RREV
David Schlundt-Bodien: Software Developer, Colorado
David Schlundt-Bodien and daughter

"PWW promotes a caring environment for employees both in and outside the office, which is one of the reasons I enjoy working here.

This company has built a great remote culture to the point of where the only difference between working in Colorado and Maine is the time zone. Even though I've never been to Maine physically, I feel like I visit a small portion everyday."
Current projects:
Byung-Hun Kim: Software Developer, New Jersey
Byung-Hun Kim

"During the interviews, the PWW team emphasized that they value people who are quality-driven, team-oriented, and eager to learn. They also highlighted the importance of fostering an environment of open communication, independence, and trust.

I felt that PWW was the right place for me to contribute my existing strengths and grow new skills. Even as a new developer, I have the opportunity to work on challenging projects.

Support and resources are always available, but it hasn't been a one-way street. I've found ample opportunities to provide support to colleagues, lead tasks on projects, and exchange feedback and ideas to better our deliverables."
Current projects:
Join our team
We'd love to hear from you. We have a variety of remote and hybrid positions available.