One of the hallmarks of a successful workplace is the staying power of its employees. At Portland Webworks, more than a third of our full-time team has been aboard for eight years or more. President Justin Davis clocks in at the top with 23 years since founding the company in 1999. (See company timeline.) Next up is Director of Technology, Chris Davis, with 22 years, followed by Tom Lovering, Director of Business Development, at 15 years. After that we have a number of others from 8-12 years, including the employees featured below, as well as Ezra Friedlander (9), Joseph Descalzota (8), and Gilbert Luong (8).
In the spirit of recent spotlights on Independent Contractors and New Employees, we asked the veterans why they stay on with Portland Webworks (PWW) and enjoy working with our public sector brand, GovWebworks (GWW). Many of them mentioned the great people, and the variety of opportunities that keep them growing and learning new things.
Interested in joining our crew? See our career page for a range of Portland Webworks job openings.
Here's what else our veteran employees have to say…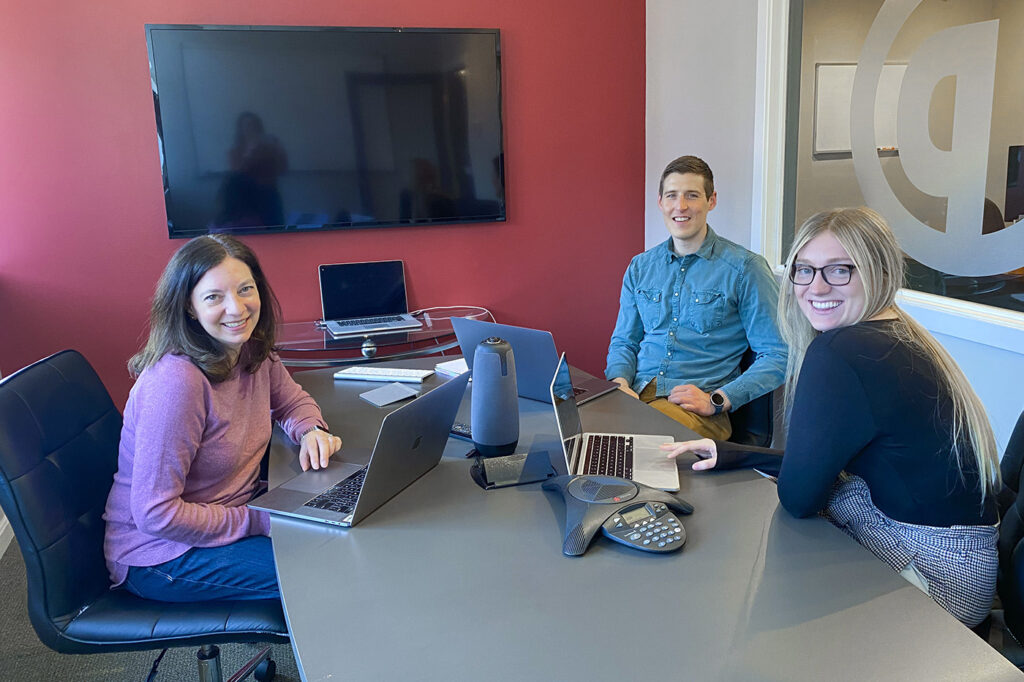 Diane Bienkowski: Quality Assurance Engineer (10 years)
What stands out for you about working at PWW/GWW?
"My co-workers are some of the best people I've ever worked with. They are bright, committed, open to new ideas, and fun! We are a close group, in many ways like family. That is something I value as much as the opportunities that the company provides. There are many other reasons why I love working at PWW, but the people are at the top of the list and the reason why I'm a "veteran" at this company today."
What attracted you to the job?
"Before joining PWW, I'd been on the IT management track at a large financial services company. As I moved further away from being directly involved in projects, the less satisfaction I felt with my career. When the opportunity arose to move to Maine, PWW immediately caught my eye as it was a much smaller company that would allow me to do project work without needing to move into management.

Finding challenges here doesn't necessarily mean having to move "up", it can come in other forms such as working with different clients or finding gaps to fill when the need arises."
What does your work entail?
"While my main focus is in QA, I've worn many hats over the years, QA, BA, PO, and some would joke, Dev (although that one is rather a stretch). The PM and BA work might include reviewing and writing stories, making sure Conditions of Satisfaction are clear, keeping Jira up to date, updating wireframes, and reviewing user acceptance testing results.

My regular quality assurance work is generally manual testing of deliverables, including database level and front-end testing. In my role, I'm both making sure the application does what it's supposed to and suggesting how to do things better."
Current projects:
What are some highlights from your 10 years here?
"When I joined in 2012, we were just starting the idalink project with Idaho Department of Health and Welfare (IDHW), a project I'm still working on today. IDHW was then getting into Agile so we joined them in the process of adopting Scrum and Jira. I especially appreciate that we really bonded as a team, and trips to Boise not only involved working face-to-face but getting together to go bowling, whitewater rafting, and hiking. I've also enjoyed my work with clients such as Sappi Paper and others over the years.

These relationships developed with long-term clients are a big part of why I enjoy working at PWW, as well as a mixture of shorter projects that provide variety to keep me learning new things."
Why do you stay?
"The people that work here are professionals and have no problem taking and incorporating feedback. There's a lot of mutual trust and respect and the ability to work together to solve client's needs is always at the forefront. On top of that, the results are rewarding. We just heard that customers found the new updates to Idaho's Child Care Incident Tracker incredibly easy to use and that it's been a time saver for them."
Kevin Ferguson: Director of Software Development (9 years)
"I can honestly say I haven't had a single boring day at Portland Webworks. When I was looking for the next step from my corporate engineering job I was interested in exploring how to build up successful teams. With PWW I found the opportunity to not only apply my core competencies in software development, but also work with many teams, all with different makeups and unique profiles of success and challenges faced.

There are no artificial limits to the challenges you can take on at PWW. As an organization, I'd say we exceed at connecting interest and ambition with opportunities. We don't have a set career development roadmap, which can be seen as a negative for some, but for me it's been a huge advantage. If you bring your goals and are willing to work hard, PWW works to match your goals with opportunities. As I've grown my skills and experience, the challenges I've been able to tackle have grown as well."
Current projects:
Alison Schestopol: Director of Project Management and Quality Assurance (11 years)
"I've stayed at Portland Webworks for 11 years primarily because of the people who work with me. Since we are a small business, the impact people have on the organization is significant. We work very hard to attract, recruit, and hire a diverse group of smart (and fun) people who are focused on delivering high quality results.

PWW creates an environment where everyone is willing to self organize and contribute on projects. If you have an idea for improvement, a process change, or new tech, you are empowered to bring it to life and continuously work towards success. You can also move over to a different discipline or learn a whole new skillset and people are willing to help bring you along.

The work never gets old because the projects are constantly changing. Although we focus primarily on the public sector, we work in a variety of sectors including health and human services, transportation, education, conservation, and even avalanche safety! Boredom and lack of purpose have never surfaced for me. There is always a new business challenge to solve and in the end, we are helping our fellow Americans with access to life changing government programs and services."
Current projects:
Todd Merry: Quality Assurance Engineer (12 years)
"At Portland Webworks, I appreciate that my job title doesn't define my role. During my early career, I worked for many large-sized corporations and often found myself pigeon-holed into roles that were defined by my job title. Throughout my career at PWW, I've found myself in many different roles independent of my job title at any given time. Filling needed roles, when they are needed most, on any project, has been a rewarding and more satisfying experience for me, knowing that I'm always contributing to the success of a project in whatever capacity is needed."
Current projects:
Join our team
Want to be part of the magic? We'd love to hear from you. We have both hybrid and remote positions available.