Our team of full-time employees couldn't do what we do without the support of a valuable group of remote and local independent contractors. These contract support staff are hired for a limited period of time to perform specific tasks, but often become full-time employees, as noted in our New Employee Spotlight. Many of our job openings are available as contract positions, which means we offer a range of options for job seekers. Here's what our contractors say about why they choose to work with Portland Webworks (PWW) and our public sector brand, GovWebworks (GWW)…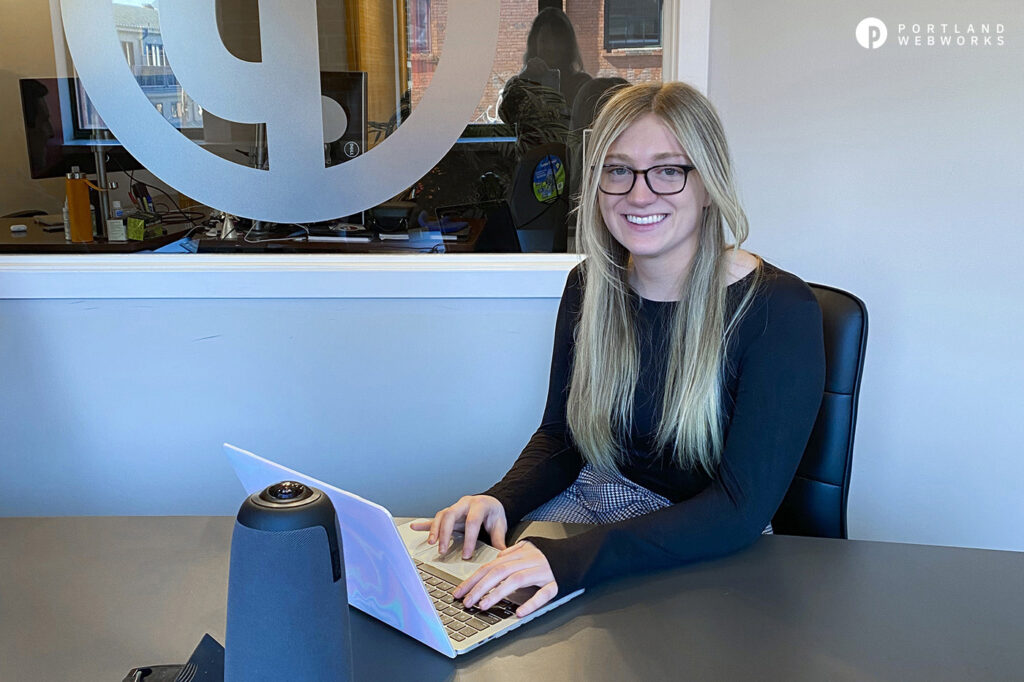 Megan Howley: Developer
Megan is currently working on the following public sector projects at GovWebworks:
What stands out about working at PWW/GWW?
"The unique blend of projects I contribute to at PWW/GWW gives me the opportunity to understand important issues for local communities across the country. Particularly in the education space, I love that my work touches the lives of teachers who are adjusting to the new world of remote learning and Tech Ed. My mom has been a public school teacher for more than 30 years, so it's gratifying to know that my work helps people like her everyday."
What attracted you to the job?
"PWW stood out to me in its clear commitment to a people-first culture as well as its work-life balance and flexible scheduling. As a Maine local, I appreciate the chance to connect in person with my coworkers and grow my network, while still being able to work independently."
Goals for the future?
"As I grow professionally, I'm enhancing my programming knowledge in the realm of full stack development, and finding efficiencies in the Scrum project planning process. I enjoy working with the other talented developers through the code reviews and the use of consistent, maintainable coding standards across all projects."
Focus before PWW?
"I worked in institutional finance at a large broker dealer where I regularly collaborated with software developers. I began teaching myself Javascript at night and ultimately enrolled in a software engineering immersive program. After graduation, I knew I wanted to work at an organization where I could ramp fast, make an impact, and gain as much hands-on development work as possible, and this drew me to PWW over other large tech companies."
Highlights from your past?
David Read: Quality Assurance Engineer
"In my first engagement with Portland Webworks, I found it to be a stable, long-standing, employee-centric technology company located in my beautiful and progressive hometown of Portland, Maine.

For my second engagement, I'm no longer living in Portland, and am now a new father moving back into the professional workforce. Portland Webworks offers a remote-friendly organization that values work-life balance, and is willing to support my transition from Project Management to Quality Assurance. In my new role, I have a more direct hand in building software that is both intuitive to use and accessible to all users."
Current projects:
Background:
Nichole Frazier: Developer
"It was immediately obvious to me that PWW not only places a high value on quality and experience, but also works on projects that make a real impact in the public sector and beyond.

Working with PWW has proven to be both a rewarding and enjoyable experience that I look forward to continuing."
Current projects:
Colorado Avalanche Information Center
Florida Turnpike Enterprise, Sunpass.com (case study)
Chris Wade: Developer
"I chose PWW for one simple reason: I detected honesty in the interviews, and I can actually say that what I was told in the interview is what actually happened. In my experience that is not only different from the competition, but unusually good."
Current projects:
Idaho Department of Health and Welfare, NEXI platform
Anticimex, Modern Pest
Background:
Game Developer, Random Games
Java Developer, US Federal Gov contractor
Join our team
Want to join our team? We'd love to hear from you. We have both hybrid and remote positions available.