What makes a positive workplace? At Portland Webworks, we believe it's the people. Case in point: for the sixth time entering, our people have landed us on the list of Best Places to Work in Maine.
"The people drive success here, so we feel comfortable speaking up, trying out new ideas, and helping solve problems," says Sarah Crossman, Director of User Experience at Portland Webworks. "I appreciate how empowered everyone is."
Since 2006, the Best Companies Group and the Society for Human Resource Management's Maine State Council have annually identified and recognized the best places for employment in Maine. This year's 100 winners fall into the three categories: 34 small companies (15-49 U.S. employees), 45 medium companies (50-249), and 21 large companies (250+).
We were pleased to rank 4th in the state for small companies this year, upholding similar rankings from the past years we've entered (2013, 2015, 2017, 2019, 2020).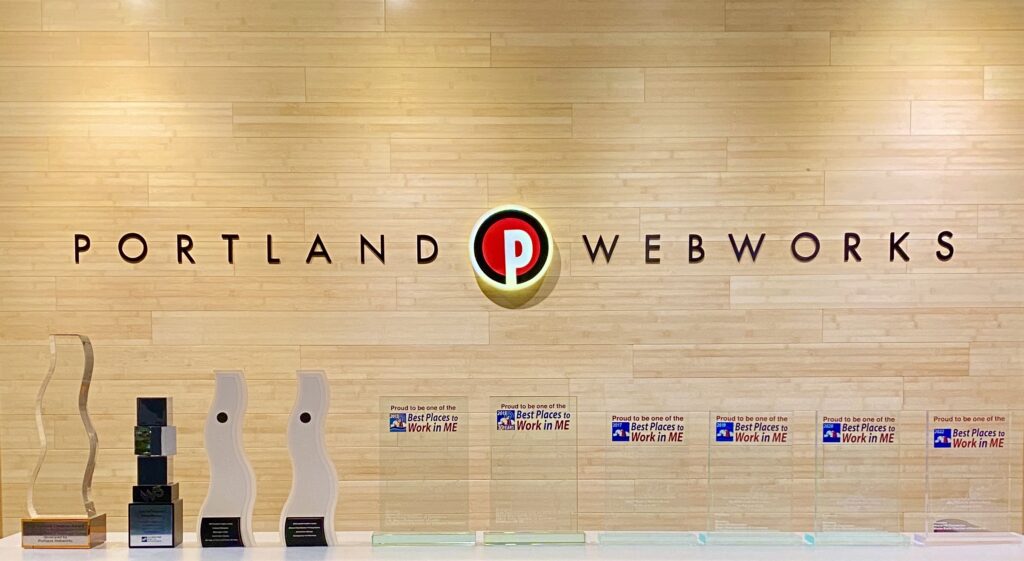 What our people say
To compete for the award, the company shares its policies, practices, and demographics, and employees complete a survey about their workplace experience. Both sections are scored to determine final rankings.
As noted in Core Values for Employee Happiness, the values of transparency, collaboration, and work-life balance make up the secret formula that underlies the success of our company culture, and our work with clients.
Here's what some of our people had to say in the Best Places survey:
"Good people, positive attitudes among teammates, and a lot of transparency into the day-to-day and monthly/yearly financial situation."
"Challenging and meaningful work, autonomy, flexible scheduling, great benefits, smart and dedicated staff."
"Sensible business approach. Sane decision making. Good people. No aggravation or bureaucracy. Reasonable pay. Very approachable management. Respectful of work-life balance. There is work to be done, and you are appreciated for doing it. No drama. Everyone gets along."
The organization has been incredibly flexible in accommodating everyone's individual work/domestic circumstances over the past few years, and has trusted everyone to continue contributing to their fullest. This has been a big adjustment for us all, but leadership has managed it well to get the best out of everyone."
"Employees will bring you up to speed on skills or knowledge that are required for the job to provide the opportunity to self grow, as well as good feedback on where to improve to be the best you can be."
"Very open and respectful to co-workers, clients, anyone! Everyone who works here is dedicated to producing a better product for clients and end-users."
Sound like a place you'd like to work? Follow our new Instagram page for a window into our culture, and check out our current job openings.
More recognition
This month we also received notice of silver and gold W3 Awards for our work with the Minnesota Office of Higher Education's MyHigherEd website. The Academy of Interactive and Visual Arts's 17th annual W3 award winners were chosen from more than 3,000 entries from around the world to recognize outstanding websites, marketing, video, mobile, social, and podcasts.
The MyHigherEd portal helps high school students, non-traditional college students, current college students considering a transfer, parents and guardians, educators, and counselors to find personalized insights into the higher education application and financial aid process. Our public sector brand, GovWebworks, provided design, development, and project management for the portal.
See the MyHigherEd Case Study and Press Release for more about the project.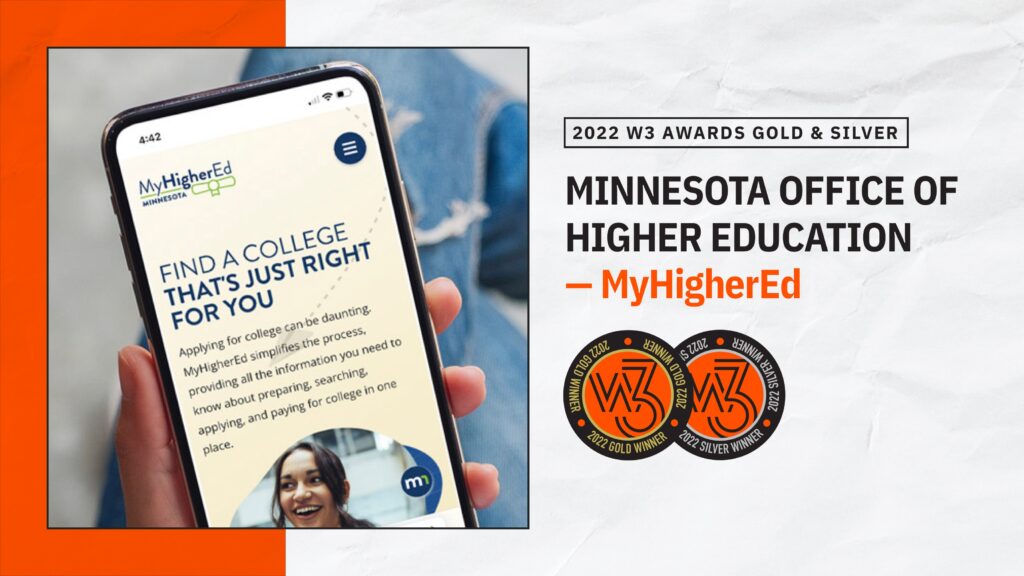 Learn more
Best Places to Work in ME: